The brand new Hunua Views community is starting to take shape.
Late 2019 saw the completion of the first stage of civil construction including earthworks, roads, utilities, power, waste water, street lights and footpaths. 73 lots are now complete and we're expecting titles in a few months.
 A number of roads now have names, including John Main Drive – the development's primary corridor. John was the patriarch of the family who used to own the land. He's no longer with us, so this main road is a fitting tribute to him and his family.
We also worked closely with Iwi group Ngaati Whanaunga to officially name Wharau Lane and Kohukohunui Lane, while Roslyn Farm Street is a nod to the farm (Roslyn Farm) that the development now resides upon.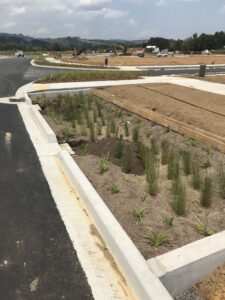 Native surroundings
Conveniently positioned to the east of Auckland's motorway (State Highway 1) in Drury, Hunua Views is lucky enough to have the mighty Hunua Ranges in its backyard – one of New Zealand's largest areas of native forest and a natural playground full of wildlife, waterfalls and walking tracks.
Given its diverse surroundings, it's only fitting that nature has played a key role in the curation of the new development. Native Titoki and Kowhai trees have been planted in the streets while our raingardens feature a delicate mix of Oioi, Panakenake and Turutu plantings.
With stage one now complete, we've received incredible feedback about the subdivision's urban design – with many sites strategically positioned to make the most of the views across the adjacent reserve area (a huge open space filled with beautiful flora and fauna). It's hard to believe such a calm and green escape like Hunua Views could also be so close to the action, but that's what makes this new community so appealing.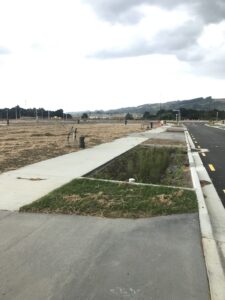 New residents step up
Leo Ryan was one of the first to secure a home at Hunua Views.
"We were looking to build a new house for a reasonable price," he says. "When we came across the Hunua Views development, we were immediately excited as it ticked all our boxes: great location, affordably priced, and built by a reputable housing company."
Chloe Smith was also drawn to the development's location and price point.
 "We're currently renting and have been following the development of Drury and its surrounding areas for some time now, so when we saw the Hunua Views House & Land packages, we were immediately interested. The pricing was surprisingly affordable, and with only 10% deposit required we were lucky enough to be in a position to move forward.  
 "Schooling was also a big factor in our decision. We managed to get our son into Ramarama School when we were out of zone (and deliberately chose this school because of its fantastic reputation), but buying in Hunua Views means our next child will automatically be zoned.
 "We were also filled with confidence when we saw Classic Builders was managing our – we felt assured that buying in Hunua Views was a low-risk investment," Chloe explains.
  Showhomes coming soon
If you're wanting a sneak peek at what this new community has to offer (and the types of house plans available), you'll soon be able to visit one of our new showhomes.
Three showhomes are currently under construction and are located in the new showhome village.
To help you visualise life at Hunua Views, the showhomes will offer a diverse mix of house plans. One will be a two-storey, four-bedroom home, while the other two will be single-storey, three-bedroom homes.
Each has its own features, but the thing you'll find in common with any home at Hunua Views is the careful thought that's gone into the design to ensure functional, easy living – without compromising on quality or aesthetics.
The new showhomes will open their doors mid-2020, so watch this space! If you can't wait till then (we don't blame you – our first release was met with high interest), get in touch to arrange a guided viewing with our build partners.
Your opportunity
We understand that buying a home off the plan can be daunting, especially when the development you're buying into is still just a vision.
Hunua Views, on the other hand, is quickly becoming the thriving new community it's destined to be – it has the infrastructure and utilities all ready to go. All we need to do now is build your home!
This is your opportunity to help shape one of Auckland's most desirable new communities. If you'd like to learn more about our House & Land packages and build partners, check out our For Sale page now.